All our practitioners have a high level of training and expertise and are fully registered and insured by their relevant governing bodies.
Annie Khenian
BSc (Hons) Ost DPO DSBFM
Registered Osteopath
Annie Khenian has a proven track record as a clinician, which she achieves by combining an understanding of medicine with an ability to read the body through a developed sense of touch. Whilst her treatments are gentle, she firmly believes in targeting the problem in a direct manner. Annie uses a highly integrated approach of Osteopathy, Cranial and Visceral treatment, Acupuncture, Pilates and Nutritional advice.
More Info on Annie Khenian Osteopath at Brook Green Clinic Hammersmith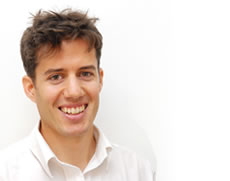 Charles Bourne
MA(Cantab) BSc(Hons) LicAc MBAcC
Acupuncturist
Charles Bourne holds a Licentiate in Acupuncture (LicAc) and a BSc (Hons) Acupuncture, practicing both the '5 Element' form and the '8 Principles' form. Charles maintains a broader interest in the world of complementary medicine and healing, having been a guest speaker at the Royal Society of Medicine and undertaken a study whilst at Cambridge University.
More Info on Charles Bourne Acupuncturist at Brook Green Clinic Hammersmith
MOT Service available. Call Brook Green Clinic on 020 7610 5459
Call us now on 020 7610 5459 for a free 10 minute telephone consultation