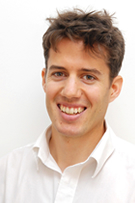 Charles Bourne
MA(Cantab) BSc(Hons) LicAc MBAcC – Acupuncturist
The acupuncture practitioner at the clinic is Charles Bourne. He joined the team in April 2008. He holds a Licentiate in Acupuncture (LicAc) and a BSc (Hons) Acupuncture through the College of Integrated Chinese Medicine, through each of Reading and Kingston Universities, London.
He is a member of the British Acupuncture Council (MBAcC) and will become a state registered acupuncture practitioner when new statutory regulation comes into force in 2010. He has trained in the two main styles of traditional acupuncture practised in this country: the '5 Element' form developed by Jack Worsley; and the '8 Principles' form, practised in modern day China.
Alongside his acupuncture practice Charles maintains a broader interest in the world of complementary medicine and healing. He has been a guest speaker at the Royal Society of Medicine and a study he undertook while at Cambridge University into spiritual healing is due to be published in early 2009, as a chapter in Spiritual Healing: Religious and Scientific Perspectives. He has been a member of a weekly healing group at White Eagle Lodge in Kensington for the past 5 years and he is also a member of the Scientific and Medical Network.
For more information about acupuncture and the high standards required for membership of the British Acupuncture Council please visit their website: www.acupuncture.org.uk
Testimonial Star
"I was diagnosed as having a frozen shoulder due to repeated injury from horse riding accidents. The entire shoulder was very limited in its range of normal movements and created severe pain. This in itself was very wearing, and necessitated the use of painkillers to be able to get to sleep. "
Rebecca
Oxford, Alternative health practitioner
Testimonial Star
"I had been in agony with tennis elbow for months and had to give up playing tennis. Then I was introduced to the marvels of acupuncture and after 3 sessions with Charles my tennis elbow was completely cured!"
Lorraine
London (Chelsea)